Coe Lewis
Coe Lewis is a lifelong defender of animals and animal rights. Raised around the world and in Ethiopia, in both Addis Ababa and on the Awash game reserve...working for the welfare of animals has always been and will always be her greatest passion, excluding her family. But it's darn pretty close! A 30-year Radio Veteran on the airwaves in San Diego, mostly on 101.5 KGB-FM, Coe also heads another nonprofit named Coe's List. This charity helps San Diegans, wonderful organizations from all walks of life, and animals all at a very grassroots level, with 100 percent of funds raised going directly back into the community. Coe has worked with hundreds of charities and animals groups and donates to multiple international charities. Coe and her boyfriend Mitch, another member of NSEFU, rescue abused and abandoned animals and in particular, they rescue and rehab pit bulls with horrific injuries and trauma. They have a 100 percent success rate in rescue.

To Coe, fighting poaching is job one. Creating teamwork with local Zambians is the goal and creating opportunities for education, employment and joint protection of the precious wildlife is Coe's mission with NSEFU. Passion and compassion are her watch words.
Victoria Wallace
Victoria Wallace was born in a small town in Oregon, USA and holds a BSN in nursing. She spends half of the year in California and half in Zambia. Travel and animals are her two big loves (besides her husband David and son Max Demian). Zikomo Safari is the completion of a dream and Nsefu Wildlife is her way of giving back to Africa for letting her achieve her dream.

I feel that this is my mission on earth; to save wildlife. It is the main reason we started Zikomo Safari. To be a buffer zone of safety for wildlife and by having the camp we have saved a lot of elephants, lions, leopards and other wildlife as the land Zikomo is on was a heavily hunted and poached area.

Nsefu is the logical next step. We needed to have a dedicated non-profit that could work towards the goal of stopping poaching. Being in Africa feels like coming home. Watching a herd of elephants move through the bush, play in the river, help each other, play with each other, you see the wisdom and intelligence that is the elephant. Saving them is like saving the best part of ourselves. We have so much to learn from them. Each animal has an important role in the ecosystem that keeps everything in balance. Our work will be with all endangered animals both predators and prey. I have always loved animals. I was the child that brought home strays and used the first money I ever saved to buy a horse. I have 14 animals at home in California and most of them are rescues. Our 4 domesticated animals In our home in Africa are all rescues too. I have trained in hospitality and am a registered nurse but I am most at home in the role I do for Nsefu, helping to stop the suffering of wildlife and try to restore the systems that can keep nature in balance.
Dr. Thomas Snitch
Dr. Thomas Snitch currently holds a Distinguished Senior Professorship at the University of Maryland's Institute of Advanced Computer Studies [UMIACS] where he directs an international team working on anti-poaching and wildlife crime issues. He is also a Senior Professor of Science at the United Nations University in Tokyo. In this role, he serves as the UN's Executive Officer for the Worldwide Enforcement Monitoring Systems which oversees the global trade in endangered flora and fauna.

Dr. Snitch is also President of Little Falls Associates, Inc. specializing in solving complex scientific and technological challenges in Asia and Africa. Since 1990, he has worked on issues such as responding to the Tohoku earthquake in Japan and the crisis at the Fukashima nuclear plant, remediation of abandoned chemical weapons in China, the disposal of PCB wastes on US military bases in the region, remote sensing policy in India and the North Korean nuclear weapons situation.

In May and June, 2013, he led the first team to successfully fly night anti-poaching mission, using unmanned aerial systems, in South Africa.

Before founding LFA, he served as Senior Staff Director of The National Academy of Sciences and directed studies of US technology transfer and weapons proliferation policy. From 1987-88, he was Senior Director for National Intelligence Programs at The Analytical Sciences Corporation.

From 1981-87, Dr. Snitch was Senior Advisor for Nuclear and Weapons Control Policy at the US Arms Control and Disarmament Agency in the US Department of State. In this position, he served on nuclear negotiating teams in Geneva, was responsible for nuclear, chemical and biological non-proliferation programs in Asia, and was the first US nuclear non-proliferation advisor for North Korea and South Africa.

Prior to joining ACDA, Dr. Snitch was Assistant Professor of International Politics and Director of US Foreign Policy Programs at The America University. In 1977, he was named the first NASA Doctoral Fellow in International Space Policy. He began his career in Washington in 1975 at The Brookings Institution in the Asian Studies section.

Dr. Snitch holds a BA in Chinese and Asian Studies from Bowling Green State University. He earned is MA and PhD at The School of International Service at The American University in Washington, DC and carried out post-doctoral work in nuclear physics at Los Alamos and Oak Ridge National Laboratories. From 1996 – 2003, Dr. Snitch was enrolled at Reitaku University where he earned the American equivalent of a Master's degree in Japanese language.

In 2004, Dr. Snitch was named by the Government of Japan as "One of Japan's Best Friends in the World'.

In 2010, he was elected to the prestigious International Academy of Astronautics. Dr. Snitch is Chairman of the Board of Visitors of the College of Computing, Mathematical and Natural Sciences at the University of Maryland.
Tony Hunstiger
Tony Hunstiger has had a lifetime interest in the outdoors and wildlife, flora and fauna. Living in Hawaii since 1975, he has been active in sports, hiking, gardening and community service throughout his time in the islands. He works as a counselor, helping people with disabilities.

Because of a long-standing friendship with Victoria Wallace and her son Demian, Tony learned of the development of Zikomo Safari Camp as it was being built. He joined with David, Victoria and Demian Wallace to help bring this Zambian dream project to reality. Through time spent in the Nsefu sector and in support of the Zikomo Safari Camp, Tony has become more aware and more committed to the work of preserving endangered species and their habitat.

When the idea of forming a non-profit organization to give back to the local Nsefu community became a reality and Nsefu Wildlife Conservation Foundation (NWCF) was organized, Tony, who is experienced with the operation of non-profit organizations, volunteered to work in support of NWCF's mission:

"the preservation and protection of endangered species. Creating job opportunities through community projects and sponsoring scholarships to educate local children."

Tony is committed to engage with the local Nsefu community by developing outreach programs that create a wildlife protection solution*.

* [Call to Action, http://www.lusakatimes.com/2015/06/03/reflections-on-my-trip-to-kafue-national-park-a-call-to-action-by-united-states-ambassador-to-zambia-eric-schultz/ ]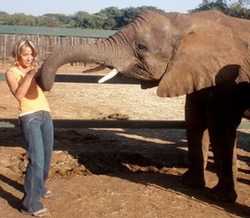 Rachel Reenstra
Rachel Reenstra is a celebrity wildlife conservationist and the host of the Emmy-nominated animal program The Wildlife Docs, airing weekend mornings on ABC Television. Before joining the show, which is filmed on location at Busch Gardens-Tampa, Reenstra hosted "Ms. Adventure", a travel show on Animal Planet. Her work has taken her to remote places around the world and her graduate degree in psychology has provided her with insight and intuition into non-human animal behavior. Reenstra launched her entertainment career as a comedian in the 1990's after relocating from her home state of Michigan to Los Angeles.

The actress and comedian has spent time in both Africa and Asia with elephants and champions causes that benefit the sentient species. She has showcased conservation efforts around the world and in North America from the elusive pine marten in Michigan (her home state) to the savannah elephants of East Africa. Rachel is poised to bring a platform and a passion to Nsefu Wildlife Conservation Foundation, which develops, administers and manages conservation initiatives for Zikomo Safari Camp located in the Nsefu sector of South Luangwa National Park in Eastern Zambia.
Connie Edwards McGaughy
Connie Edwards McGaughy has spent her entire life immersed in her two passions: Art and Animals. As a child, she walked door-to-door, handing out pencil sketches of dogs and cats and reminding neighbors to be kind to animals. Years later, while working as a commercial illustrator, Connie became associated with the renowned author and animal rights champion, Cleveland Amory. He asked her to serve as the San Diego Coordinator for the Fund for Animals during the highly publicized rescue of thousands of feral goats from San Clemente Island. Despite being a city girl, she became a very proficient "wild goat wrangler". During her involvement with the Fund for Animals, she participated in coordinating a major fundraiser for the rescue of wild burros from Death Valley, CA and assisted in the care of dozens of abused and neglected tigers, leopards and lions in Colton, CA. She is particularly proud of being a founder of the Fund for Animals Wildlife Center in Ramona, CA.
With her husband, the artist and designer John Stewart McGaughy, Connie continues to express herself through art while pursuing her passion for protecting all animals. She is honored to be a part of the executive board of Nsefu Wildlife and has dedicated her energy toward developing the resources and funding to ensure the survival of elephants, giraffes and all wildlife through Nsefu's vitally important and effective programs.